Dolphin Premier Robotic Pool Cleaner
The Dolphin Premier has been called the best Dolphin Pool cleaner ever made. With groundbreaking design and a level of efficiency never seen before, the future has already begun. Highly efficient, state-of-the-art DC motors and an ingenious Multi-Media filtration system deliver an exceptional user experience while reducing energy use up to 87%.
But don't take our word for it. Watch the Dolpin Premier HD Video that shows how visionary mobility and design made the Premier the pool technology pacesetter.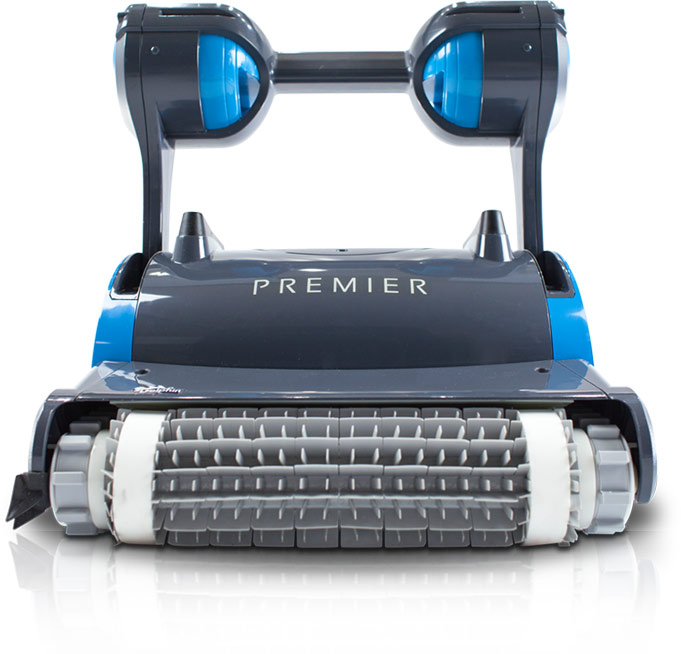 Maytronics engineers have done it again, designing a new pool robot
that does the improbable.
Brand new for 2015, the Dolphin Premier is the newest Dolphin robot to come out of the Maytronics laboratory. And it doesn't disappoint. To understand the evolution of the new Dolphin Premier Robot, you have to go back to 1983. That's when Maytronics began the revolution. Some doubters were quite convinced that nobody would want a pool cleaner that operated without the typical booster pump. Their reservations were entirely understandable. Pool cleaners had always required an old fashioned AC motor to supply pressure or suction power. The problem was that booster pumps burned a staggering 1,470 watts of energy. If your pool relies on your main circulation pump to power a pool cleaner, that number can exceed 2,000 watts.
Then Maytronics launched a robotic pool cleaner with powerful 24 volt DC motors. These motors were nearly 90% more efficient. A highly efficient onboard low voltage motor was all that was needed to turn the pool cleaner industry upside down. Here was an opportunity to get more from less. To optimize the work input to work output. In short, efficiency needs power. That was the principle. And it still stands today.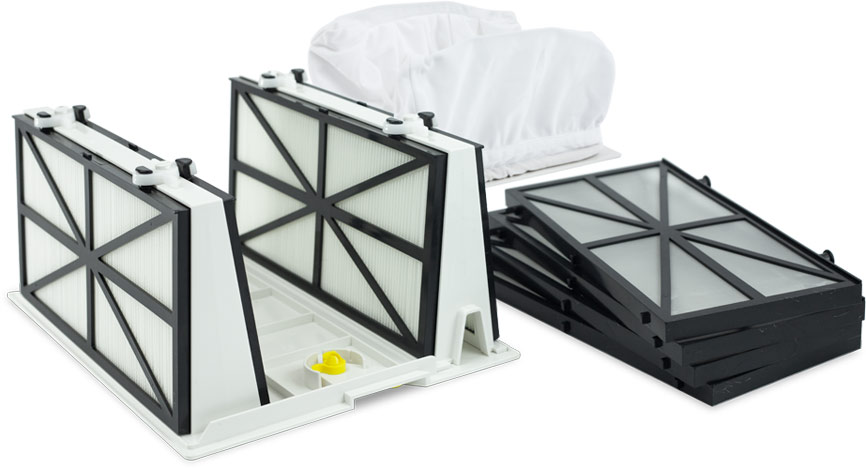 Multi-media™™
MultiMedia is the new Dolphin Premier pool cleaner feature that offers up to four types of media in one pool cleaner. Specific types of media work best for specific jobs. That's why Premier gives you the power to use any of the following media: micro-cartridges, standard cartridges, oversized debris bag, and disposable debris bags.
For the first time ever, no matter which media type you choose, you won't be making a compromise. That's because Dolphin Premier allows you to change your media type in just seconds. Want to clean fine debris and algae that passes through other cleaners? Go micro-filter. Need to pick up a bushel of leaves? Go oversided media bag.
HyperGrip™ Rubber Tracks
Rubber tracks grip the wall of your pool in a way that wheels simply can't, delivering unmatched agility. A cleaner pool meansyou'll buy less chemicals and conserve water with fewer and faster backwashes.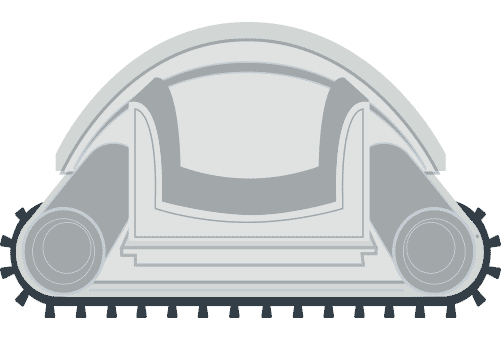 Patented Anti-Tangle Swivel
The underwater robotic cable swivel is one of the greatest engineering accomplishments in the pool industry. But you don't need to be an engineer to understand the benefits of tangle-free operation. Without a swivel, every cable will eventually become a tangled hassle. What other robotic company offers a swivel? Nobody.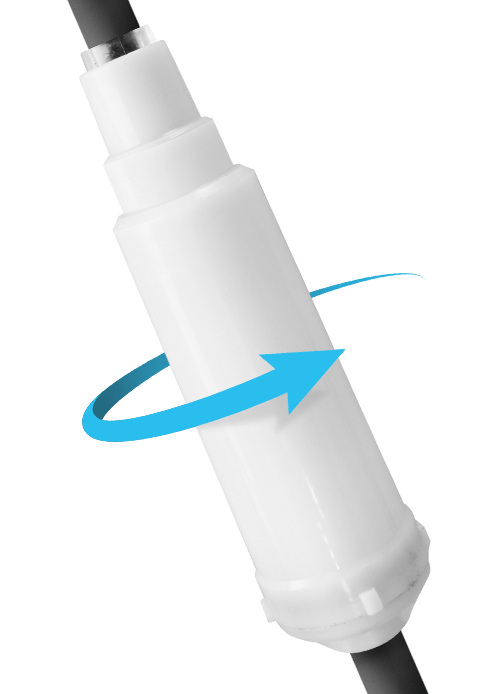 SmartNav™ Robotic Scanning
When you drop a Dolphin Premier into your pool, it doesn't just randomly wander the pool like other cleaners. Premier's microprocessor measures and learns your pool's size and shape and then applies a systematic scanning pattern to clean every square inch of the pool in the shortest time possible. True efficiency.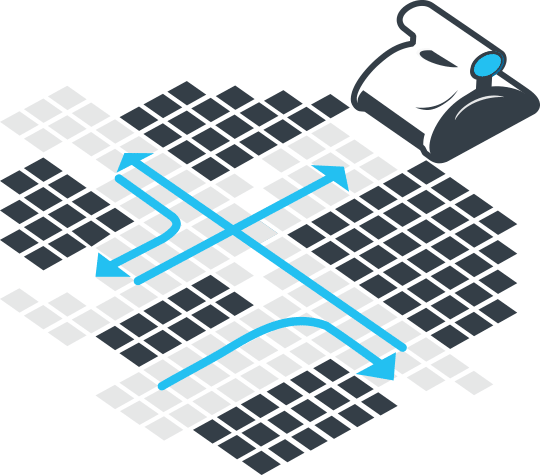 Ultra-Efficient DC Motors
The principal is simple. 24 volt motors operate on nearly 90% less power than AC booster pumps. Running on just 180 watts, the hourly cost is about 5 cents per hour. But that's not the whole story. Premier cleans quickly and thoroughly. That's why you can set Premier to auto run just when you need it - daily, 2x per week or 3x per week.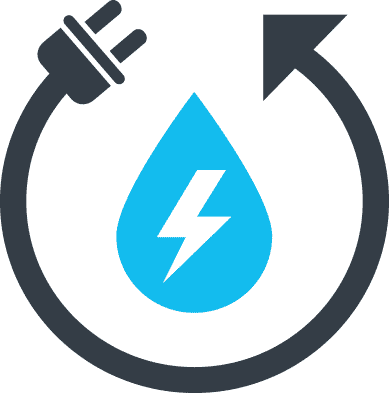 Superior Scrubbing
The Premier thoroughly cleans and scrubs every square inch of the pool, including coves, walls, and the waterline. Even the most difficult to reach spots are scrubbed and micro-filtered at 75 gallons per minute..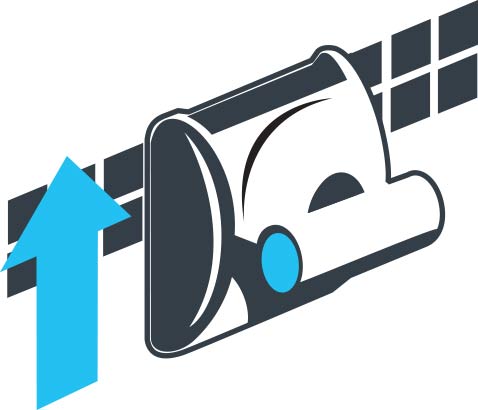 Best-in-Class 3 Year Warranty
A top-of-the-line robotic cleaner should have a no-nonsense warranty that protects your investment. Premier delivers. 3 years. Not pro-rated. Not limited to hours or cycles. It's hands down the best warranty in the industry.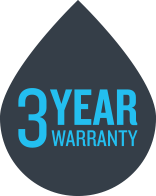 DIY Modular Engineering
Minimize downtime. Ground-breaking modular design means each of the five modular components can be easily replaced in just minutes by you or your dealer.